The Lake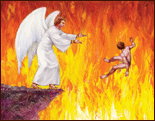 The bells of Hell
Are no melodic sound;
Here the tortured cries
Of screaming souls abound.
Horrid shrieks, pleads for mercy,
Begging for an end;
But no end comes, and not even a single drop of water
Will anyone ever send.
No, no end comes,
Not now, not ever; but souls burn on;
Death seems to come a second time;
All friends and family are gone.
Sulphur and Brimstone is your environment;
Gnashing and grinding teeth from excrutiating pain;
Here, reality is terror and terror, reality;
You scream; your thoughts become insane.
No God listens;
Only loneliness hears;
But flames, a constant companion are;
Never consuming, yet continuously sears.
No earthly flames are these;
No oxygen do they need,
Nothing will extinguish them;
Any earthly terror, this pain and horror does exceed.
Sin paying for sin,
Never complete will its payment be;
Never more true was it, that all hope is surely lost;
And your family, you will never again see.
(written/created by Jeff)
Posted by Jeff at 12:01 AM EDT
Updated: Friday, 10 August 2007 6:30 AM EDT