My Worst Nightmare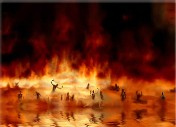 I dreamed I was in Heaven;
Such eternal bliss;
But one thing was not perfect,
And that thing was this:
I looked across the chasm
At that terrible Lake of Fire;
And suddenly my heart sank
With agonizing desire.
For there I did see
Among the tortured souls in flames,
Friends I'd known on Earth;
And in shock cried out their names.
Why did I not warn them?
Was that truly being a friend?
Afraid they wouldn't like me;
Afraid I would offend.
Not wishing to hurt their feelings;
In fear of friends deserting;
Now in torture they were writhing;
With more than just feelings hurting.
What could I do now?
Now it was too late;
Their eternity was sealed;
A nightmarish fate.
Then suddenly I awoke,
Completely drenched in sweat;
I still had time to tell them;
Their lives were not finished yet.
So if you, like me,
Have unbelieving friends,
Then tell them now and pray for them
Before your friend's life ends.
(written/created by Jeff)
Powered by Qumana
Posted by Jeff at 3:11 AM EDT
Updated: Friday, 10 August 2007 5:18 AM EDT