Attended a Men's Retreat at Camp Kulaqua. Went hiking. Also went on a 5-hour canoe trip. Saw several deer, and got within 10 feet of one wild deer. Saw 2 Great Blue Herons, and got about 15 feet from one, which was about 4 feet tall. Saw fish jumping out of the water. Saw hundreds of turtles---more turtles than I've ever seen in my life; groups of 50-60 turtles would pop their heads up out of the water. My partner jumped in the water and caught 3 of the large turtles, and threw them into the canoe; but we later lost them, when our canoe flipped over while we were caught in rapids. We had a difficult time pulling the canoe to shore, fighting against the current.
It has been 10 months since my last entry. Mostly, I've just been working a lot.
Tonight, I went to a Cultural Festival, where they had booths of foods from around the world. They had different cultural dances all day long, as well as various shows. They had a Caribbean steel drum band; young dancers from India performing both classical and modern Indian dances while wearing their traditional costumes; a really good break-dancing group; and much more. It was a fun time.
A few days ago, I was cutting my toenails in the back yard. I looked down, and I saw a fire ant carrying away one of my toenails. I started laughing, and I thought to myself, "Now what is he going to do with that?" A little later that same day, a moth landed on my finger, which was pointing straight up. I walked about 30 yards, the moth staying on my finger the entire time, until I finally just blew him off my finger with my breath.
We went to St. Augustine and rented a boat (11 of us) and a captain and his mates, and spread my dad's ashes out in the water, after going several miles out. St. Augustine was my dad's favorite place to go. We each took turns saying something, then each of us took turns pouring out some of the ashes. It was a sad time, especially for my mom. Though my mom's faith is strong, she still very much misses my dad, and it's not easy for her. I miss him too.
We had a memorial service at the church for my dad (he was cremated). Several of our cousins and friends came from out of town, in addition to friends and church members in town. My two brothers, sister, sister-in-law, and brother-in-law, and I, all shared in front of everyone, including reading poems and singing. It was a beautiful time. Others also shared briefly how my dad's life had touched them.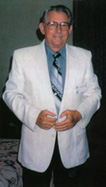 November 14, 2004
My dad died, approx. 6:22-6:24 pm. He was 81 years old. He had gone into a coma this morning around 1:00 am. At the hospital they determined he was bleeding severely from the brain, and the brain stem was damaged beyond repair. After having him on life support for a while, my mom had them take him off life support, after which he survived about 4 more hours. A good number of people came to see him, and stayed for hours.
October 1, 2004

Jeanne left me with no electricity from Sunday AM till Thur AM, and no phones for one day. Jeanne did more severe damage, at least in my area, than Frances did. Although my place is fine, many large trees were snapped in half like twigs; other huge trees were uprooted; in my apt. complex, a tree fell through a woman's roof; my neighbor's second-story roof had some of the trim torn off; the fence around the complex was smashed in one corner from a fallen tree; other trees and large branches were down; a very large branch partially blocked off the exit from the complex.
September 17, 2004

Well, Charley missed us, and so did Ivan; but Frances left a ton of leaves and branches that still isn't completely cleaned up, and I was out of power for 4 days, with no phone for 1 day. My previous long-term temp job (over 1 year) ended 3 weeks ago, but Mon. I start a new job with better pay! Yesterday my parents had a tornado go through their yard, which took down some huge branches, split a neighbor's large tree right down the middle, took a roof off a shed, and lifted up my parent's 600 lb. well (which houses their pump) twice (but didn't carry it off, since it was tied down). Today my parents saw 2 deer in their back yard.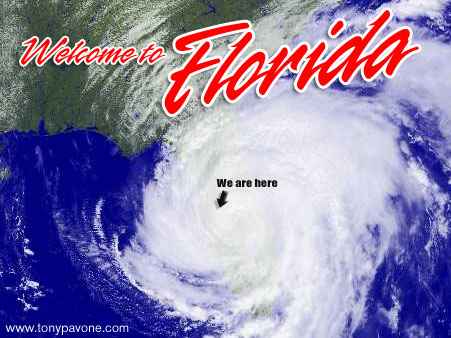 August 13, 2004
Today is Friday the 13th, 12:30 in the afternoon. I got off work early today because Hurricane Charley is expected to hit here tonight. Whether I stay here or go over to my brother's house (because of all the pine trees around my place, which could fall onto the roof) is yet to be decided.
Since I haven't written anything here for a while, I'll bring things up to date:

Several weeks ago I broke my toe, and it is almost healed now.

About the same time (just a few days after I broke my toe) I got an insect bite on the toe next to the broken one, which was at first 3 sets of puncture wounds in a circular formation, and then became red and swollen, and then dried up and became white bumps, and then turned into open blisters. It didn't hurt; it only itched for a short time. That is almost healed as well.

Several days after that, I got a very large, badly-infected cyst on my chest/shoulder area that was very sensitive to touch. A large area of my chest was red around it. The doctor lacerated/lanced it and packed it (instead of using stitches). Though the doctor shot me several times in the upper chest with novocaine, it didn't work very well, because I could feel the sharp blade cutting into my chest, and I was gritting my teeth in pain (they had put a cloth over my face, and I had my face turned to the side; the nurse could see my face, and she said, "He's making faces; he's feeling that." The cutting hurt much worse than the needle injections did.) I was not allowed to bathe for 9 days. That is pretty close to being healed as well now.

About 2 months ago I started taking karate again: the style I am now taking is Soo Bahk Do.
My dad is now walking by himself again. The other week he even walked around the entire block! His speech and awareness are back to normal, and his memory (though he can't remember his days in the hospital) is pretty much back to normal. Praise God for such an awesome recovery!
May 8th, 2004
Tonight I was driving on the expressway, doing about 95-98 mph in the speed lane (Hey, why do you think they call it the speed lane?). I was praying to God for protection; a few seconds later, I slowed down a little and moved to the center lane behind another car which was also going fast. A few seconds later, the car in front of me hit the edge of about a 3 foot long piece of tire (debris in the middle of the expressway), knocking it up into the air. Suddenly I heard an explosion, like someone had just hit my front windshield, right in front of my face, with a baseball bat. That big chunk of tire hit the windshield right in front of my eyes. I immediately shut my eyes, because I knew the tire would come through the windshield, and it would hit me in the face, possibly killing me, and large pieces of glass would shoot into my face and chest and shoulders and neck.
I opened my eyes, but the windshield was not shattered. I looked for cracks in the windshield, but there were none. The windshield wiper had busted, and there were tread marks on the hood of my car from where the tire hit the hood before it hit the windshield, but that was it. I couldn't believe that such a powerful explosive impact did not shatter---or even crack!---the windshield.
Some people might attribute it to the thick windshields they make today, but very often road debris easily breaks through windshields and often kills people. Personally, I attribute it to God answering my prayer. I was shaking a little after it happened. I know that God spared my life.
May 1, 2004
On March 26, 2004, my dad had a stroke due to intercranial bleeding (likely brought on by blood thinners he's been taking for his high blood pressure). His right side was completely paralyzed and his speech was badly slurred to the point of incomprehensibility. On March 31, he was moved from the hospital to the Rehabilitation Center, where he currently resides. We were allowed to bring him home for a few hours for the first time on Easter Sunday, and since then my mom brings him home to their house for a few hours on weekends. He now has a little movement in his right arm and leg, though he still cannot walk. His speech is almost back to normal, and his memory is much better, but he will never be the same. However, God has done many positive things through this, including making my dad a more humble man. On Easter Sunday, several of us slowly walked to the base of a tree in my parent's back yard to see a hawk in her nest feeding two baby hawks, which was cool. While walking into or out of the Rehab Center, animals have been close to me a couple times: one squirrel on the ground let me get two feet from him before he scampered away; and a raccoon was 6-8 ft. in front of me, just beginning to climb a tree. When he had gotten about 8-10 ft. up the tree, he sat on a branch and just stared at me. At my parent's house, I've gotten as close as 3 feet from wild rabbits and snakes.

March 6, 2004



Left at 8 am Sat. to go to the Strawberry Festival in Plant City. After spending a few hours there, we drove to Daytona Beach for Bike Week. An estimated 600,000 motorcycles were there. I learned some new terminology like Ape Hangers (high handlebars causing the biker's hands to be at or above shoulder height) and Rice Burners (Japanese-made bikes). We visited the OCC (Orange County Choppers) trailer and saw several of their theme bikes. Got home shortly before 1 am.




March 3, 2004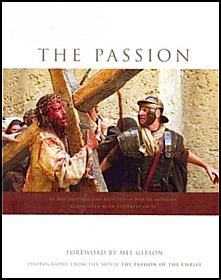 I went and saw "The Passion of the Christ" today. It was awesome! Concerning anti-semitism, to anyone who has the attitude that "The Jews killed Jesus, so we should hate Jews," this is completely antithetical to the message of love that Jesus taught. First of all, not a single Jew living today had any part in what happened 2000 years ago. Secondly, anyone who blames the Jews for Jesus' death is missing the picture entirely. Do you want to know who killed Jesus? YOU did. I did. Our sins killed Him. It was for us that He died. He voluntarily laid down His life for us, an event foretold in prophecy, both by God and by man, from the beginning of mankind. Why? Because He loves you. He loves you so much that He was willing to endure excruciating torture and suffering---not only physically, but emotionally and spiritually as well---just so that you and I could spend eternity in Paradise with Him. He took our place---He took the punishment for us, which we fully deserve because of our sins. All we have to do is accept Him, by faith, and turn our lives over to Him. He wants an eternal, loving relationship with us, and He was willing to suffer unbelievable, terrible agony and death to get it. Are we willing to love Him back?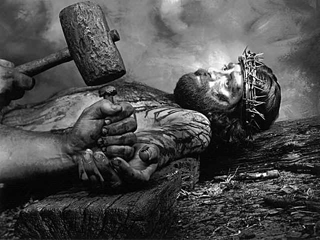 Feb. 3, 2004
I moved into a 2-bedroom apartment a few weeks ago, and I've been buying furniture and stuff for it. Yesterday I bought a PlayStation 2 and two games for it: Tekken 4 and Mortal Kombat Deadly Alliance (they were on sale). I had formerly owned only PC and Mac games, but I really like one-on-one martial arts games, so I finally gave in to buying PS2.





Dec. 22, 2003
After limping for a few days, my right knee is now healed enough to where I can walk normally, though it is still swollen and hurts. I kept a heating pad on it for a few nights, but I should have put an ice pack on it right away. Oh, well; live and learn. Next time I exit the ice-skating rink, I'll walk out instead of jumping out at full speed.

Dec. 17, 2003
I twisted my knee at the ice-skating rink... not on the ice, as you would think, but on the carpet! Instead of stopping at the edge of the ice and walking onto the carpet (like I should have done), I went full-speed toward the edge of the ice and jumped onto the carpet, intending to run a few steps on the carpet until I could reduce my momentum and come to a stop. Instead, my right skate caught in the carpet and caused the carpet to bunch up, while my left skate slid straight forward. While my left leg straightened and went forward, my right knee twisted inward, and as I went only halfway down, all my weight went to the outside of my right knee. My knee swelled up, and it was painful.






Dec. 16, 2003
I went to see the play "The Gospel According To Scrooge." It was very professionally done, complete with special effects. The actors did an excellent job and made it very enjoyable.

Nov. 29, 2003
This morning the temperature dropped to 38 degrees. Yesterday I worked out at the gym, then volunteered at the ice skating rink (which is under a tent) for a few hours. (It may sound noble, volunteering and all that, but I have selfish motives: I get to skate as long as I want for free!)

Apparently someone was digging in the ice and kicking at it with the back of their skate blade in order to dig up ice chunks to throw at someone; in doing so, a leak formed, where the green liquid refrigerant that helps keeps the ice frozen, leaked out badly.

Soon there was so much liquid leaking out (plus the ice was cracking badly for about 10-15 feet or more, and getting worse), that we had to close off 1/3 of the skating rink. Then we spent about an hour cleaning up the liquid with squeegees (pushing it out a few small holes in the side) and even shovels and a bucket. We had to close the ice skating rink a few hours early. They had to call someone out to fix the leak.

Tonight I volunteered at the ice skating rink for about 4 1/2 hours.

Since I haven't written in this journal for a while, here's a few of the things I've done in the past few weeks: Nov. 6th I went to see "The Matrix: Revolutions." Nov. 7th I went to "Cafe on the Rock" (http://www.cafeontherock.com). Nov. 8th I went to the Springz (http://www.springz.com). Nov. 15th I went rollerblading at the park. BTW, my bike now has 2 flat tires from going in that retention pond on Oct. 26th. Apparently the many burrs that covered both me and the tires dug deep enough into the tires to put holes in them...I know they sure dug deep into me.





Oct. 26, 2003
The other night I went rollerblading at the park. A couple nights before that I went to see "Kill Bill."

This morning, thanks to the time change, I got up early and lifted weights a little. After coming back from church, family and friends came over for a visit. Later I took my mountain bike into a retention pond, and I made it across (the first time), despite the sugar sand that slowed me down.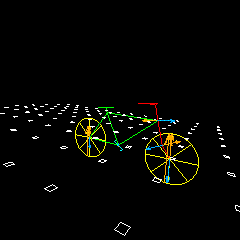 But the second time I tried it, I foolishly tried to go across this drainage pipe. I saw the narrow but deep hole too late to avoid it; I knew immediately that I wasn't going to make it. The front wheel dropped into the hole and caught; the bike flipped, and I went head-first into the dirt. Instinctively, I put my forearms in front of my face to keep from breaking my neck. But I still got a mouth full of dirt, and I got sand spurs buried deep into my face, arms, legs, pants, shirt and shoes... even in my hair. It took a while to get all the sand spurs (burrs) out, and I still have long scratches on my legs. I also had to pull out a few thorn pieces where the sand burrs had broken off into the skin. Thankfully I didn't get hurt. Nevertheless, it was fun!


For the past couple weeks, I've been playing "Extreme PaintBrawl 4" on the PC. That's a fun game. For the past few years my favorite games have been "Freedom Force," "StarCraft: Brood War" and "Diablo II."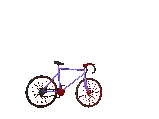 Oct. 4, 2003
Today we went trail biking in the woods at Santos Trailhead. I've done 15-mile bike hikes at Shark Valley in the Everglades before (where you're often just a few feet from alligators), but never have I experienced what I experienced today. Biking on the street, concrete or asphalt doesn't compare to this. It was like a difficult obstacle course. We had to go over logs, roots, large rocks, pit holes, soft sand, high grass, dirt, and even some soft mud.

There were three difficulty levels of paths. We went on the Beginner (Yellow) trail, which was easy; we also went on the Intermediate (Blue) trail, which was quite difficult to us as beginners. But we didn't even try the Advanced (Red) trail, since we were warned strongly against trying it.

My brother took a spill, and bent his bike up, going over some large roots or something. My bike fell once, but thankfully I landed on my feet. I also crashed into a small tree once, trying to avoid a large rock or root on the ground. Sometimes the trees were so close together you could barely fit between them, so we had to rely on balance, control, coordination and concentration. We had to duck under one log that had fallen and had caught, so that it extended across the path at about head level. We had to squeeze by long, thick vines that extended down from the trees. Some parts of the trail were so impassable (at least by beginners) that we had to walk over them and carry our bikes. Sometimes the trail would curve at a sharp 45 degree angle so that it was difficult to stay on the path at such a sharp turn, and a few times I went off the path, into the weeds, mud, roots and underbrush.

At one point there were large grasshoppers flying back and forth in front of our faces, hitting us, etc. I felt one large grasshoppers' wing brush against my arm, and it felt as big as a bird's wing.

Thankfully, I got through it with only a bruised knee and a few small cuts. It was an interesting and fun adventure. I can't wait to go again!




August 22, 2003
I haven't written in this journal for a while, so I decided I might as well write something now. Finally went and saw "Pirates of the Caribbean." Afterward, for the first time in my life, I attended a Messianic Congregation. I've never been to a Jewish temple before, let alone a Messianic (i.e., "Completed Jew" or "Born- Again" Jew, or Jewish Christian) service. It was a unique experience.

I bought a bike last weekend, and I've been riding it up and down the hills here, which can get pretty tiring. I've also been rollerblading, as well as practicing with my martial arts weapons, practicing kickboxing, and working out to my cardio kickboxing video ("Knockout Workout"). I've been working out with weights at home a little, since I haven't gone to the gym for several weeks now (lazy me).





June 20, 2003
While driving to work this morning, a deer ran out in front of my car, suddenly appearing out of the woods. It scared me, because I thought for sure that deer would be dead in the next second. But to my relief, the deer stopped at the edge of the road, turned around, and ran back into the woods.
I drove past a few hundred cows today, and maybe 60 or so calves. I've also seen many horses with their colts, in recent weeks. The other day, three rabbits were chasing each other in our back yard. Breeding season is definitely in evidence around here.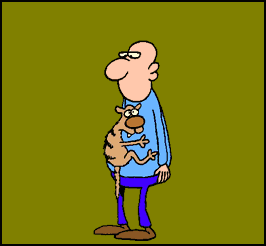 This being both the horse capital of the world and the lightning capital of the world, it's not surprising that a woman at my church had 3 of her 5 horses killed by a lightning strike the other week. Their metal horseshoes apparently intensified the damage, and the result was very messy. The three horses were on their way back to the barn, mere feet away from the barn, when it happened. How tragic.




April 13, 2003
Today I saw "Blackie," the indigo snake that visits us every year. We have daily visitors in our yard, including: hawks, playful squirrels that entertain us by chasing each other around, wild rabbits, raccoons, Red-Bellied Woodpeckers, giant Pileated Woodpeckers, small Downy Woodpeckers, Bluejays, Cardinals, Eastern Bluebirds, Brown Thrashers, Robins (briefly each year), crows, buzzards, doves, and various Finches.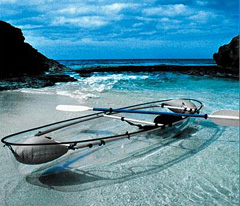 April 5, 2003
Went kayaking on the river. My kayak was transparent, so you could see the bottom of the river, similar to a glass-bottom boat. I saw many cormorants (water-birds) diving for fish, herons sitting up in the trees with their wings spread out to sun themselves, egrets, an ibis, a number of fish, and even an alligator swimming along.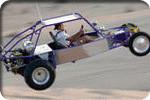 March 8, 2003
Went in a dune buggy through the National Forest, and did a little mud bogging as well. We got lost for a while in the forest, but even then, it was fun going incredibly fast over bumps, ditches, through mud and water, and terrain that even a jeep would have a difficult time with.

At one point we went through a deep mud puddle really fast. A huge tidal wave of water and mud rose up over the dune buggy like a giant hand and splashed down on top of us. I ducked my head and covered myself with my arms, but the shocking cold water poured over me. I was wearing goggles, so that helped, but I was covered in mud and water. The whole time dirt and sand were pelting the back of my head as the wheels kicked it up against my back. My right arm and shoulder got especially covered with mud. We had to stop and clean off the goggles and the rear-view mirror so we could see.

Several times we went between trees that were very close together, at a very fast speed; if we had hit those trees, we would have been seriously injured. One time we stopped and saw fresh deer tracks. Of course, the loud noise of the dune buggy scared away all the wildlife. I brought a complete change of clothes, including shoes, because I was covered in mud. We also went canoeing and went on a paddleboat. We had a blast.

We went back to my brother's house, and about a block from his house we saw flashing lights from an ambulance and fire trucks. We also heard sirens and some loud explosions. We ran toward the house, and there were about 5 or 6 fire trucks, about 4 or 5 patrol cars from the Sheriff's Dept., and an ambulance. We heard a few loud crashes and explosions, and then some loud popping sounds. There was a beautiful, expensive house, and from the center of the roof there were huge flames that rose several feet above the roof. Once they got that fire out, suddenly from a room in the back, 3 windows glowed bright orange as flames filled the room to the ceiling; we could see giant walls of flame inside the room. One fireman ran in and rescued a dog. People were screaming and crying. Thankfully, the entire family got out, with one woman getting only minor burns (like you might get from a sunburn) on her face. Apparently a gas water heater exploded in her face, and they immediately threw her in the bathtub and doused her in water.

The media was there, and a local news station asked to interview me. I agreed, so they filmed me and asked me a few questions about what I saw and heard. So I got to be on the 11:00 news.


Jeff Jenkins
kingzmessenger@embarqmail.com